3 Myths About End-Of-Service Software & Hardware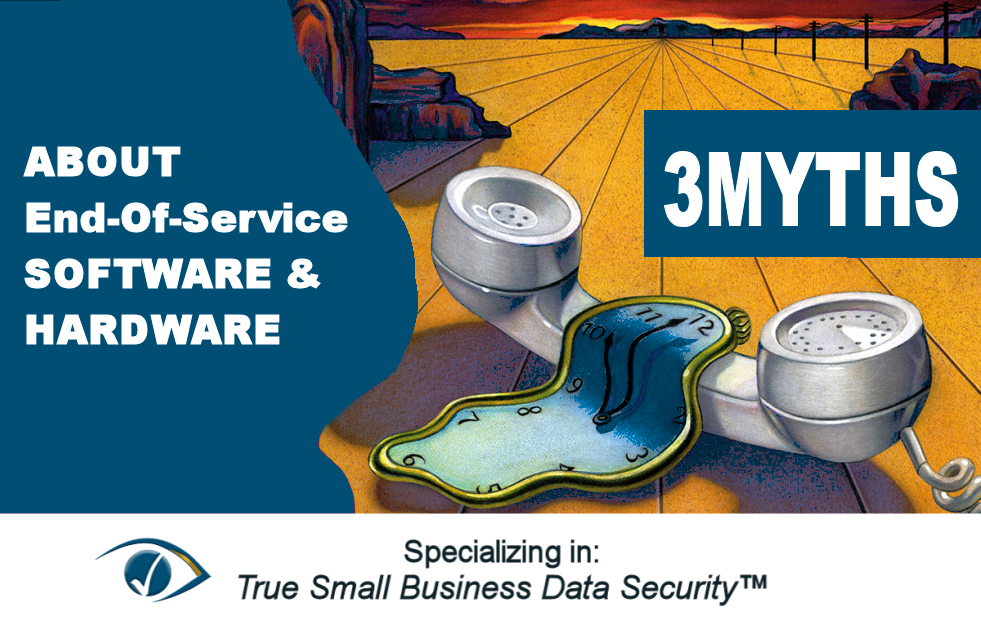 It is business critical that all your software & hardware be kept up-to-date to be secure. In fact: Internet criminals actually hunt for outdated and unpatched computer systems, to attack and gain access to your business and your data.  
If you choose to continue using End-of-Life (EoL) or End-of-Service (EoS) software or hardware, you run the risk of data breach, ransomware demands, performance issues for your staff, incompatibilities with other software, and legal risks including negligence lawsuits and government fines. That gets really expensive and might even force a business to close! The affordable expense of being in compliance with data security & privacy laws is inexpensive in comparison.  
Three myths surrounding EoL or EoS increase the security and financial risks for business owners like you. 
Myths That Endanger Your Business
Myth #1: If it's not broken, don't fix (or replace) it
The adage "if it ain't broke, don't fix it" is popular, but when it comes to software or hardware at EoL or EoS following puts your business in danger. The truth is that if you fail to update your software and hardware, you expose your business to security vulnerabilities that can quickly turn very expensive.
There are several reasons to keep your software and hardware up to date. 
Newer software and hardware versions are usually more stable and less prone to crashes and bugs.

New updates frequently include security patches that keep you safe from internet criminal attacks.

Updates may include new features and enhancements that improve performance and make your life easier.
Next time you're tempted to skip an update, remember you could be opening the door to expensive risks that endanger your business.
Myth #2: EoL or EoS means the product will no longer exist
Although the EoL or EoS software or hardware is still running in your business, it will no longer receive security updates, new features, or tech support from the manufacturer. This means that it will become increasingly vulnerable to security risks and may be unable to keep up with your workload.
It also implies your IT team will find it harder to keep your IT network and devices secure from internet criminal attacks. If you're using a piece of software or hardware that has reached EoL or EoS, quickly have your IT team upgrade your software or hardware to the latest version available to protect your business.
Myth #3: EoL or EoS means I can still use the product until it breaks
While the software or hardware might still physically work, being in EoL or EoS state means there's no longer a team of people working to not only improve the product but also look after, communicate, create, and release patches should a new security vulnerability arise.
This leaves you prone to attacks, as well as unable to use new features and capabilities that are released. Knowing the EoL or EoS dates for your software and hardware can help you plan ahead and ensure you're not left in the dark when support ends.
You can also dive deeper into this topic by downloading our checklist, "How Technology Reaching End of Service Can Impact Your Business," by clicking here.
Protecting Your Business is Top Priority
Your top priority is to keep your software and hardware up to date, so your business doesn't suffer avoidable consequences, however, doing it alone is difficult. Compliance Specialists helps the smallest U.S. businesses protect themselves from the dangers of EoL or EoS software and hardware. Contact us to get started today. 
Remember, "Maintaining Software and Hardware to Current Standards" is one of 
The 19 Essential Elements in True Small Business Data Security™.  
We support you by offering services and our Solid Foundation Compliance Programs tailored to your business, to keep you safe from internet criminal attacks that bring small businesses to ruin every day. If you're interested in learning more, feel free to reach out for a consultation.