The Dangers of Running Outdated Software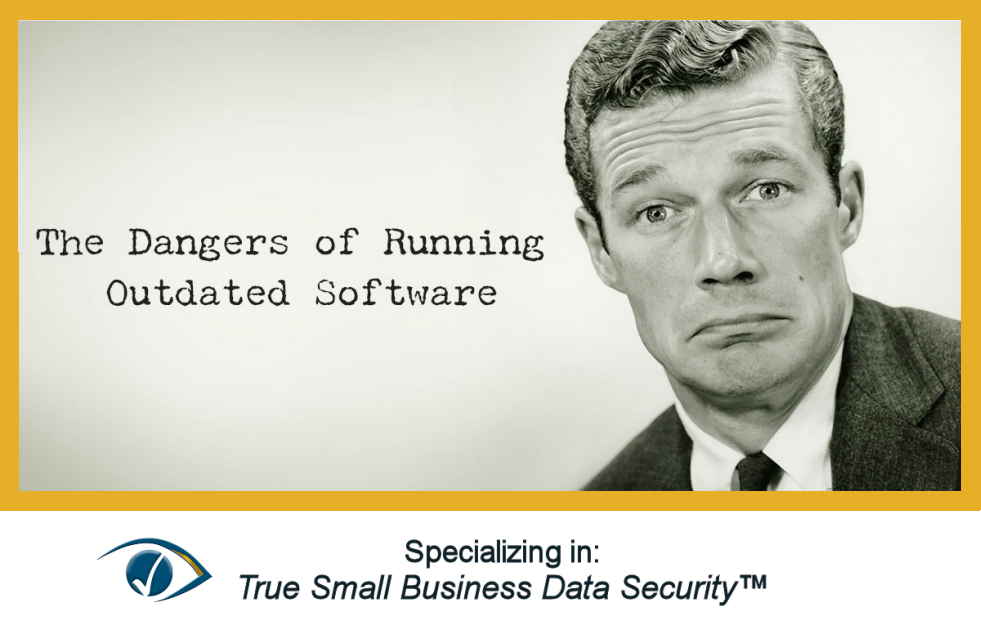 Your software is only as good as its last patch. Reaching End-of-Life (EoL) or End-of-Service (EoS) means critical patches and updates are no longer available, leaving you vulnerable and unprotected!
Some business owners make the mistake of waiting, not moving quickly, to upgrade their EoL or EoS software because it is "still functional". However, outdated software makes you immediately vulnerable to security risks, data loss, compliance issues and possibly fines and even lawsuits for negligence.
In this blog, we will discuss the primary implications of running outdated software and explain why it's business critical to take action when your software reaches EoL or EoS.
Compliance Issues
The implications of running outdated software are divided into three categories: 
Security implications
Using outdated software can have severe security implications, such as:
You no longer receive security patches from the vendor, leaving your system vulnerable to known exploits. 

Internet criminals may have already reverse-engineered the software and developed exploit code, for the purpose of attacking and stealing data from your system. 

Running outdated software may cause compatibility issues with other software and hardware, leading to data loss or corruption. 

Using outdated software violates data security standards and best practices, compromising a secure future and operational excellence.
Privacy implications
Privacy implications of using outdated software are severe. When your software is no longer supported by its vendor and contains sensitive information, you are immediately at risk of being successfully attacked, and as a result receiving a data privacy fine. The legal term used is "Failing to implement basic security measures:" This includes not updating software with the latest patches. 
For example, the Federal Trade Commission (FTC) is taking action against Chegg Inc.

The FTC alleged that Chegg failed to use "commercially reasonable security measures" to protect personal information it collected and stored.  "It's lax security practices exposed sensitive information about millions of its customers and employees, such as Social Security numbers, email addresses and passwords." They failed "to Develop Adequate Security Policies and Training". Included in the FTC's proposed order, "Chegg must implement a comprehensive information security program that addresses the flaws in the company's data security practices."  
Productivity implications
Outdated software has productivity implications for a business. For example, when software runs slowly, crashes frequently or is otherwise difficult to use, it frustrates employees and disrupts workflows. This impacts your business productivity and leads to a poor customer experience, which is damaging to your company's reputation and bottom line. Therefore, it is important to keep software up to date and avoid these problems.
Download our infographic checklist "What Does End of Support Mean for Your Business?"  by clicking here.
Protect Your Business Now
Remember, "Maintaining Software and Hardware to Current Standards" is one of 
The 19 Essential Elements in True Small Business Data Security™.  
Recognizing the dangers of using EoL or EoS software or hardware, you want to protect your business.  Compliance Specialists helps the smallest U.S. businesses protect themselves from the dangers of EoL or EoS software and hardware. We can help you too, contact us to get started today.