Did you know hardware and software expire too?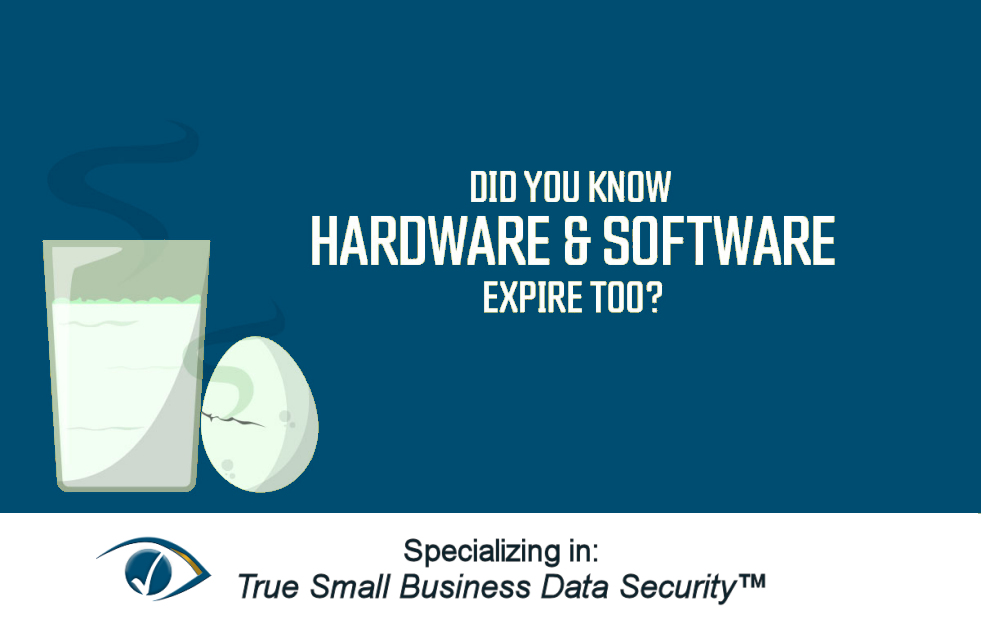 We are all aware of the term "use by date." It is regularly used when talking about food and medications and refers to the date after which the product is no longer safe to consume. Your computer software and hardware expire too!! They reach End-of-Life (EoL), and the manufacturer announces End-of-Service (EoS).
This is because computer technology is constantly evolving and advancing. What was once cutting-edge becomes obsolete — not patchable, and not protectable.
While many people might not be seriously concerned about using outdated technology, doing so increases risks to your business. Obsolete technology is not secure, because it does not receive modern security features or patches from the manufacturer's support team. This leaves your business and your data immediately vulnerable to attacks from internet criminals looking for any computer, like yours, that is no longer protected. Plus, when software or hardware reaches EoL or EoS, it's no longer in compliance with data security & privacy laws and regulations. All the data you are legally supposed to be protecting is at risk, and you are legally liable for negligence when any attack is successful.
So, what does this mean for you and your business? Staying up to date with the latest software programs and hardware is business critical. To protect yourself from the risks of outdated software and hardware, you need a plan for when your systems reach their expiration date.
End-of-Support for Office 2013
Support for Office 2013 will end on April 11, 2023 and there will be no extension and no extended security updates. When Office 2013 is no longer being supported by Microsoft, this lack of support means you will not receive any technical assistance, bug fixes or security updates from Microsoft to cover any potential vulnerabilities.
Without upgrading, you run the risk of your business being exposed to security vulnerabilities such as malware, phishing, ransomware, and data theft.
To keep your business safe, the best option is to migrate to Microsoft 365. As a cloud-based subscription service, it can increase employee productivity and collaboration without the risk of using unsupported software. In its subscription-based model, Microsoft automatically patches vulnerabilities to prevent internet criminals' attacks through their software. Your software is always supported and up to date. More significantly, your workflow is unaffected by these updates because they take place in the background and your systems remain protected from increasingly sophisticated threats.
The Real Numbers
If you follow the news, you're probably aware of the upsurge in data breaches and internet criminal attacks. These attacks have targeted businesses of all sizes and industries. For example, during the first half of 2022, there were a total of 236.1 million ransomware attacks worldwide. 
According to Acronis Cyber Protection Operation Centers Year End Report 2022 
"Leaked or stolen credentials were the cause of almost half of reported breaches in [the first half of] H1 2022. Stolen credentials continue to be a driving force behind breaches, and with these credentials, attackers can easily execute phishing and ransomware campaigns. "

"475 out of 12,985 reported vulnerabilities were being actively exploited in the first half of 2022. "

"Between July and October 2022, the proportion of phishing attacks has risen by 1.3x, now representing 76% of all attacks (up from 58% in H1 2022)."

"Phishing — including specialized forms like spear phishing and whaling — continues to be the top threat facing organizations. Between July and November 2022, phishing activity rose by 130%; it now represents 76% of all email-based attacks (up from 58% in H1 2022)."
Many small business owners are still not taking adequate precautions to defend themselves. One of the biggest mistakes an owner makes is assuming their current security measures are sufficient. Upgrading outdated technology both software and hardware, and diligently patching all software and hardware work together to protect your business.  
When reading the Acronis End of year report referenced above, the reader becomes aware that the internet criminals are constantly improving their tactics to breach businesses.  It becomes clear that the internet is really a daily battleground with constantly changing attacks, and your outdated and unpatched technology makes for a huge risk to your business. 
Investing in currently supported technologies is one of the most advantageous ways to protect your business. Current technologies have internal security measures in place, and their support teams release updates and patches to make the product more secure and helpful. 
In the event of a data breach or attack, current technologies have the support team of experts who can assist you in recovering from the incident. 
With current technologies in place, your business is IN COMPLIANCE with the STANDARDS required by Data Security & Privacy Laws.  
Finally, for small business, prevention is much less expensive. You can avoid negligence lawsuits, government fines, and your own financial ruin by upgrading your systems today!
To help you learn more, download our infographic "What Does End of Support Mean for Your Business?" by clicking here.
Need help?
If you've read this far, you might be newly determined to protect your business by ensuring that no outdated software or hardware is being used. However, this can be a heavy lift without expert assistance. Fortunately, today's automation and system controls can help you in a cost-effective way.
Remember, "Maintaining Software and Hardware to Current Standards" is one of 
The 19 Essential Elements in True Small Business Data Security™.  
We can use our experience and skills to show you the right way to secure your business and provide you with the necessary tools, so you won't be caught off guard by outdated software or hardware. Now that you have a clear idea of how vulnerable your business becomes by using any software or hardware past its EoL or EoS date, please reach out to us for a no-obligation consultation.